Thursday, August 7, 1997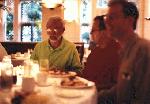 Arnold Zwicky, Scott Safier, Champ Knecht
This and the next four photos were taken at the Thursday breakfast at Postrio. Elegant and yummie.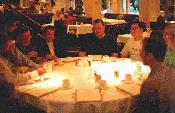 Steven Levine, Michael Palmer, Marina Muilwijk, Chuk Craig, David R. Johnson, Arnold, Champ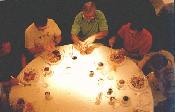 Chuk, David, Arnold, Scott, Champ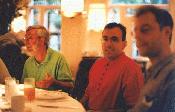 Arnold, Scott, Champ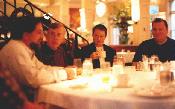 Steven, Michael, Marina, Chuk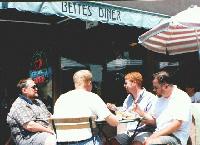 Ned Deily, Art Whitley, Jake Coughlin, Sherwood Hill.
Lunch in Berkeley (Fourth St. Mall) during the foodie tour.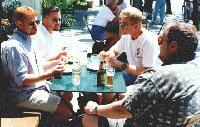 Jake, Sherwood, Art, Ned
Another shot of lunch. Jake & Art were staying with Sherwood in Suisun City (don't ask).
Ken Rudolph, Jake Coughlin
At the culinary capitol of California.

Jake Coughlin, Art Whitley
All the best men are taken.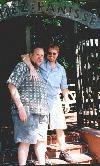 Ned Deily, Jake Coughlin
Overcome with admiration for Alice Waters.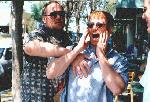 Ned Deily, Jake Coughlin
Man does not live by food alone.

Champ Knecht
A shopping tour devoted to hats (my cap was stolen at Postrio).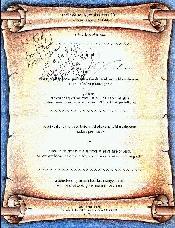 La Folie menu
No pictures at La Folie; but here's the menu signed by the chef. Bravo!
---