RIVER CRUISE, Saturday morning October 2, 1999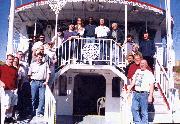 GROUP PHOTO at start of cruise: (clockwise from far left) Doron Meyer, Caitlin Daugherty, Dvora Silberman, Mack McKinley, Darren Scott Cobb, Vadim Temkin, Marina Muilwijk, Robert Coren, John Gintell, Lisa Cohen, Ayana Craven, Leroy Dominique, Josh Simon, Ken Rudolph, Robert Cumming, Lars Magne Ingebrigtsen, Ann Burlingham, Fred Vaughn, Ned Deily, Tim Wilson.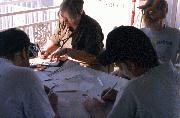 Writing postcards (Ann addresses postcards while Josh, John & Robert contribute.)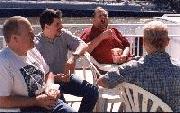 Cruising down the river: Tim, Mack, Ned & Darren.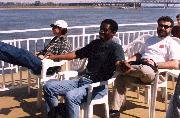 Ayana, Leroy and Vadim kick back.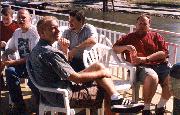 On deck with Doron, Tim, Darren, Mack & Ned.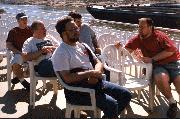 On deck with Doron, Tim, Josh, Mack & Ned.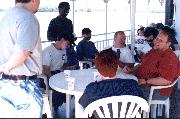 Refreshments in the shade with (l-r): Mack, John, Leroy, Robert, Lars, Tim, Ayana, Vadim, Lisa & Ned.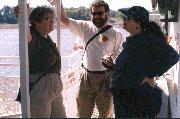 Ann, Vadim & Lisa schmooze.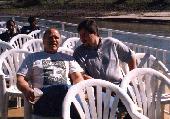 Tim & Mack soak up rays.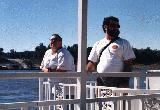 Morph & Vadim ditto.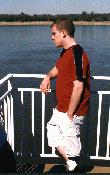 Doron smokes.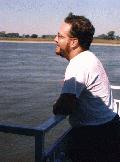 Josh on lookout.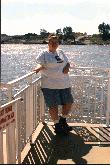 Morph reigns.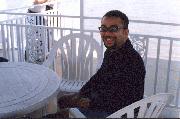 Fred on deck.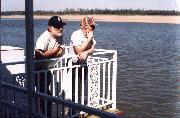 John & Robert cruising.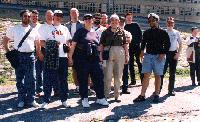 Happy group standing on levee after voyage (l-r): Josh, Mack, Tim, Ayana, Darren, Lisa, Vadim, Ned, Ann, John, Lars, Fred, Robert, Marina.