GRACELAND TRIP (Friday, October 1, 1999)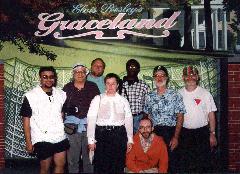 GROUP PICTURE (l-r): Fred Vaughn, Ken Rudolph, Ned Deily, Marina Muilwijk, Leroy Dominique, Robert Cumming, John Gintell, Robert Coren.

WAITING AT BUS-STOP (Ned on phone to find out if this is the correct place to wait for the bus to Graceland).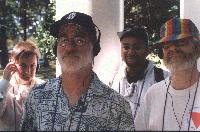 Marina, John, Fred & Robert waiting at front entrance and testing guide tape (Marina's is in Dutch!)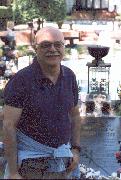 Ken Rudolph in front of Elvis Aron Presley's grave (pic by Ned Deily)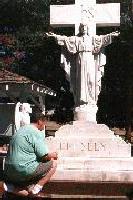 Ned praying at Elvis' monument.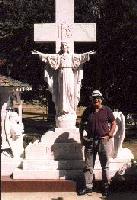 Ken Standing in front of Elvis' monument (pic by Ned Deily)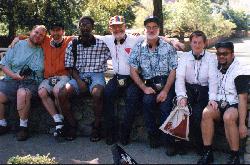 Group resting after tour: Ned, Robert Cumming, Leroy, Robert Coren, John, Marina, Fred.